About
Because we know you're wondering, yes, both the city of Franklin and Benjamin's Roadhouse were named after Benjamin Franklin.  Benjamin's was opened in 2000.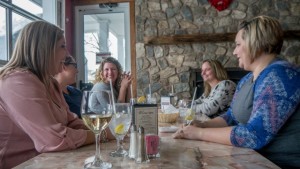 Our warm atmosphere and variety of dining settings, combined with a unique menu, makes Benjamin's a wonderful place for your lunch, dinner, evening drinks and appetizers or dessert – or even your meeting or private party. We offer a 92-seat restaurant, 64-seat four-season patio, and 76-seat outdoor summer dining space.  For meetings and private parties, we can also offer the 40-seat Shamrock Café.  Reservations are recommended for dinner on Friday and Saturday evenings, and for large groups.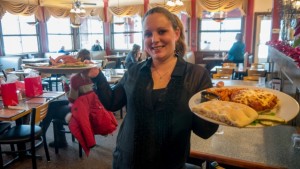 Visit our Menu page to see our menu and follow us on Facebook for announcements of our daily specials. Our full-service, non-smoking bar features a large selection of seasonal and regionally produced Craft Beers from Blue Canoe Brewery, Timber Creek Brewing, and North Country Brewing.
We offer a variety of musical entertainment on our lawn the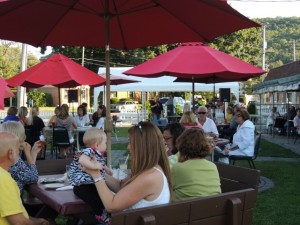 first Friday of June through Labor Day. See our Entertainment page for a current schedule.
Benjamin's is open 7-days a week beginning at 11:00 a.m. for lunch and dinner. Check our Contact page for our current hours.
Benjamin's is owned and operated by Kaye Jardin of Franklin. Her management team of Katie Kimball (Bar Manager) and Kelcie Heckathorne (Dining Room Manager) help to make sure you have a great dining experience!